Aaron Connolly Photography Portfolio
12th April 2018 in O'Devaney Gardens
It was our second time going to O'Devaney Gardens to take photographs, exactly a month since our first visit. Aaron photographed the last two remaining blocks again and we noticed the ropes had been stripped off the washing line posts. We walked around the back, where blocks had once been to see if there were some horses around to photograph. We talked about small differences since we'd been there last: the car exhaust box was gone, there were new tyre marks on the tarmac; and somebody had left a piece of stone stacking art in the grass.
Aaron explained: I think it's a beautiful area up here. It's like a ghetto but I think ghettos have their own kind of beauty as well ye know. Where I used to live is kind of a ghetto as well, Sheriff St.
I wrote down Aaron's comment and read it back to him.
Aaron: You're mad for writing those quotes down ye are.
Shireen: Yea, that's 'cause I don't see beauty.
Aaron: That's cause you're from the posh southside. Ye haven't a clue about the northside. Ah no, sure there's bleedin' ghettos over in the southside aswell. (Dolphin's Barn, Donore…). You'd see the cars, burn marks, scorch and all on the walls, off cars gettin' burnt on the street and all little fires gettin' lit and what have ye. And then people selling drugs, dealin' on the corner and all that. You'd see all that. That's horrible, I don't like lookin' at that itself, but the state the areas is left in, that's all gonna be improved in the foreseeable future, 'cause you're gonna look back and you're gonna be like 'fuck that's what it looked like at one stage, and look at it now'. You're not gonna know this anymore when it's all re-developed, 'cause where we are now, there could be a home standing here in the next few years. Somebody could be living right here where we are... so you just don't see it that way ye know?
Shireen: Ye
Aaron: It's just amazing like.
Aaron showed me other people's photographs of O'Devaney Gardens on his phone, and this video slideshow, pointing out the exact locations where different images were taken.
****
Aaron: I just love flats, do you know what I love about them, the biggest thing I love about flats is, 'cause I know what it's like to live in them, I lived in Pearse House at one stage, and it's a fucking great sense of community in the flats it is. Any flats. So that's why I see the beauty in them. 'Cause you're standing out on the balcony – it depends on what flats you're living in, 'cause some flats around the city don't have balconies – O'Devaney Gardens, for example, there is long balconies, but there was also at one stage, these flats that had the hall sort of, and you had your own front and back balcony. But they were still kind of connected in a way. But, the thing about them was, about any other flats, you're going out onto the balcony and you're just waffling the ears off your neighbours. Any time. And you're just like a family with your community.
****
27th August chatting in Swan about the vandalism at the flats since the last residents moved out.
Aaron: Them two flats are just standing there practically saying 'just wreck me, destroy me... put me out of my misery'. It's sad, 'cause they were beautiful flats not so long ago.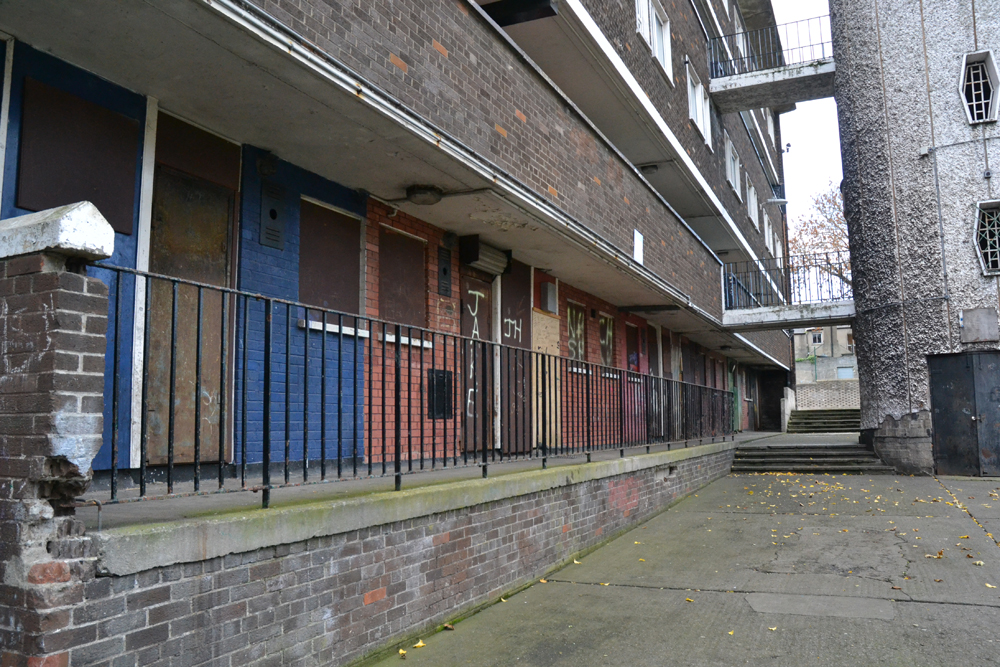 12 Nov 2020
Aaron and I walked around Dorset St. Flats, chatting and taking photographs for the first time since the first lockdown for Covid-19 in March 2020. As we came through the tunnel on our way back to our meeting point, Aaron stopped.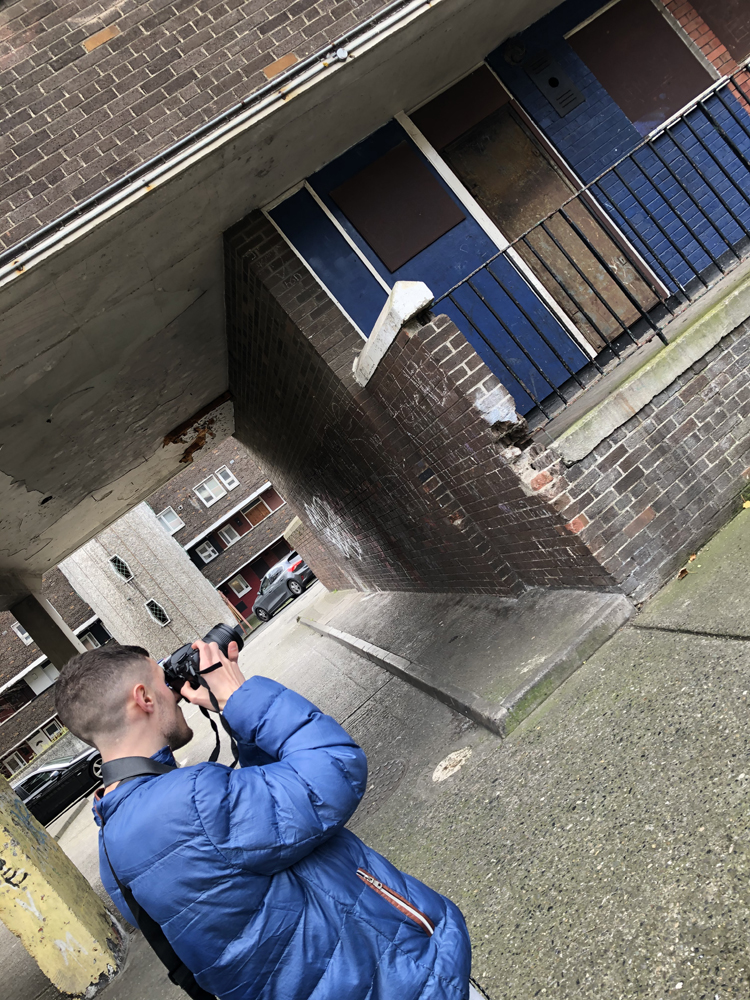 Aaron: I know this looks intimidating Shireen, all the boarded up flats. But I see beauty in that.
Shireen: How?!
Aaron: For photographs.